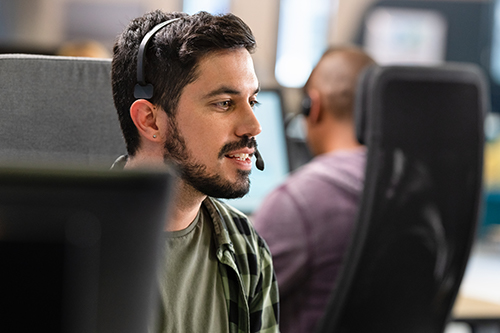 We specialize in providing exceptional, HIPAA-compliant, reliable, round-the-clock service to receive and convey critical communications. MediCall365 customer service experts deliver reliable and efficient answering service solutions for a wide range of Health Care Specialists. We're raising the bar for answering services through our dedication, expertise, and ongoing staff training.

Accurate Message Details
We strive to present each customer with perfectly recorded, 100% accurate messages. Every detail we document is double-checked, for accuracy so that you can be confident that each of your messages includes all of the patient's relevant information, the patient's exact name, and the right call-back number.

Take a Break, Let Us Answer The Calls
Even on the 3rd shift, our operators are waiting intently by the phone for your patient's calls. Let your office take a full lunch break and go home on time to their families – we'll be there to answer the calls that come in when you're busy with your life. We'll mainline the caffeine and sit at attention, so you can get a good night's rest and be ready to help patients in the morning.

HIPAA-Trained
We know that for your business, HIPAA compliance isn't an option, it's a requirement! That's why our employees are rigorously trained in HIPAA compliance, and we've implemented policies and procedures that will ensure your electronic transmissions and records are protected.

Scripted Messages
Define your callers' customer service experience from start to finish. Scripted messages are the very best way to ensure office policies are maintained after-hours.

Sign out to Our Tele-Nurses
All of our on-call Tele-Nurses possess a minimum of 10 years' clinical experience, use industry standard protocols, and are covered under a million-dollar malpractice policy. This means that we're completely qualified to handle emergency calls any time of the day or night, without ever needing to disturb you.

Capture Every Opportunity
Are you running a promotion for merchandise or a service? Our operators can answer basic questions, take a message, or even help you close the deal! When the response to your promotion comes pouring in, we'll be there, ready to assist.

Scalable Support
We possess the technological and human resources necessary to support your account on a variety of levels. As your needs change, we are able to adapt to provide more support or less support as needed.

Hold My Calls
Are you having a meeting, going on vacation, or attending an important event? We can hold your messages, advise your callers, or relay critical contact information for the provider covering your patients while you're away.